"Coasting is bad for you" Sheldon Brown
Before (1988) and after conversion (2001)
This bike was a simple Hercules 3-speed commuter bike. Now it has been converted to a fixed-gear (no coasting, no gearing).
Hercules/Victoria 3-speed from 1981, frame and fork steel, 58 cm seat tube, 60 cm top tube, around 112 cm wheelbase (the rear wheel can be moved foth and back in the dropouts), green-metallic.

Wheels: pretty old Campagnolo Record hubs (used but technically OK), laced to new race rims: front Rigida DPX 36 spokes 1.8/1.6/1.8 cross 4, rear Mavic CXP 33 28 spokes 2.0/1.8/2.0 cross 3, tyres 23-622 (used Vittoria Open Corsa from my road bike).

Drivetrain: Thompson bottom bracket with steel cranks and steel chainwheel 46 teeth, Campa track cog 18 teeth (gives a 5,30 m gear) or 16 teeth (6,00 m), Wippermann chain 1"x1/8".

Brake: Only a front brake, rear braking by backpedaling if necessary. The brake is an old Weinmann center pull brake, upgraded with Koolstop brake shoes. The brake was upgraded using "drop-bolts" to become more efficient (not seen on the pictures yet).

Ahead adapter with 80 mm ahead stem, Profile drop bar 40 cm, Sachs/Modolo aero brake levers.

Ritchey SPD MTB pedals, aluminum seat post, Coda race saddle.

Wheight is now about 10,7 kg (16,5 kg before conversion). This is really amazing for such a cheap bike. And it shows how good today's road bikes are optimized when they weigh only around 9 kg with full equipment.

How does it perform? Superior! Especially stopping without coasting has to be learned. While standing you can lift the rear wheel and the bring the pedals to a better position for starting. SPD pedals are really needed for the sake of safety! The bike seems to be very efficient because of the simple design. You don't have to worry about shifting. The 46/18 gear is relatively short but good for high cadence training and commuting. 46/16 is better for normal training at higher speeds and not-to-steep hills. And it is fun! Ofther racers look a little bit alarmed when left behind by such a bike. And it is really a new insight for me to see that lightweight can be less significant than pure efficiency.
Fixed-Gear Literature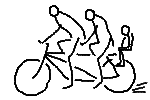 ---
© D. Bettge; 4.7.2001, last correction: 15.2.2002